Ingenuity, innovation and invention
3 September 2009
Although African leaders have taken a united stand on climate change as it affects them, concern for the environment as a whole is still lagging. Apart from massive dumping of electronic waste from the West, plastic bottles, bags and other non-biodegradable materials continue to blight the landscape. In the case of electronic waste it seems to me that all that is needed is for governments to legislate against importation – under any circumstances – of electronic waste. Education around recycling and incentives against using plastic bags remains a challenge.
However, in the business of recycling Africa and the Global South have generally, whether by necessity, innovation or both, always been miles ahead of developed countries. Likewise, Africans are designing and building their own innovations in energy. The recent African Makers Faire held in Accra, Ghana, was an opportunity to showcase African 'low tech', 'high spec' inventions. Below is a selection of the most innovative recycling and reusable energy projects being used across the continent.
William Kamkwamba of Malawi, who left school at the age of 14, has designed a wind-powered generator using recycled bits for his home.
Kamkwamba learned the basics using an old library book. Built from bits of wood, parts of a broken bicycle, a tractor blade and other discarded objects, the generator is powerful enough to charge mobile phones and four light bulbs.
This simple mobile battery charger was designed by a young Ugandan woman. She had given her phone to the local battery charger who returned it with an old battery. Resolving never to be cheated again, Mrs Muyonjo designed her own mobile phone battery charger using 5 size D batteries tied together and connected to the bare wires of her phone charger.
The Bambulance is a human- or animal-powered ambulance developed specifically for use in rural areas. Made from bamboo shoots and tarpaulin the design and build is simple. Though built in Canada, I suspect the design was itself adapted from some local innovation such as this one below.
This water heater is an example of useful but dangerous engineering:
Now here's one that anyone can make – bottled water furniture. Would be quite cool in the garden and I imagine a bit like sleeping/sitting on a water bed!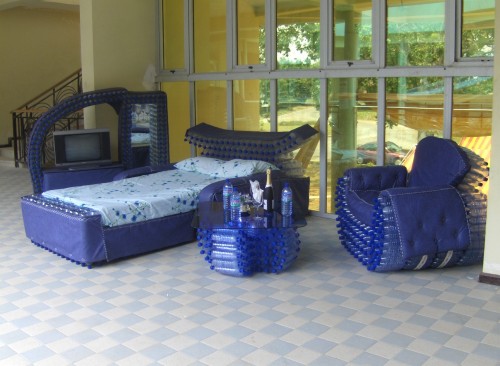 Tyres are probably one of the most common recycled objects across the continent, from the Maghreb through to Southern Africa. Bags, containers of all shapes and sizes, shoes, belts etc.
Finally for a huge selection of African innovations, ingenuity and inventions see Afrigadget – archived from 2006, a good place to start is at the beginning.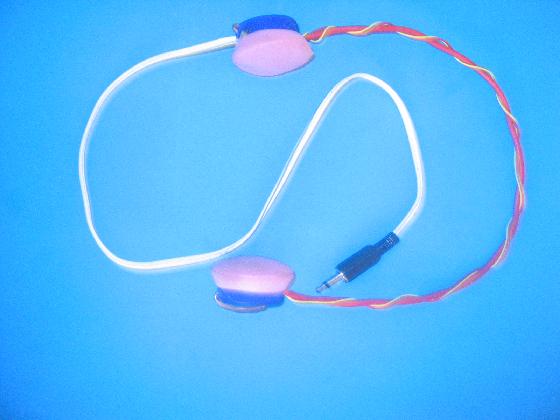 DIY headphones.








Help us produce more like this
Patreon is a platform that enables us to offer more to our readership. With a new podcast, eBooks, tote bags and magazine subscriptions on offer, as well as early access to video and articles, we're very excited about our Patreon! If you're not on board yet then check it out here.