Aminatou Haidar wins human rights prize
18 September 2008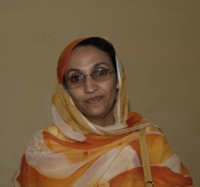 The 2008 Robert F Kennedy Human Rights Award has been won by Aminatou Haidar, one of the younger generation of leaders campaigning for an independent Western Sahara from within the territories occupied by Morocco rather than from exile in the Algerian refugee camps. She has consistently pursued nonviolent methods of resistance to human rights abuses by the Moroccan authorities and organized peaceful demonstrations demanding a referendum on self-determination – the Western Saharans are the only people in Africa not to have been accorded this right.
In 1987, at the age of 21, Haidar was one of 700 peaceful protestors arrested for participating in a rally in support of a referendum. Later she was 'disappeared' without charge or trial and held in secret detention centres for four years, where she and 17 other Saharawi women were tortured. In 2005, the Moroccan police detained and beat her after another peaceful demonstration. She was released after seven months, thanks to international pressure from groups like Amnesty International and the European Parliament – though the torture and harassment of other Saharawi human rights defenders continues. Morocco still refuses to allow any referendum that would include independence for Western Sahara among the options.
'For me, as an individual, the Robert F Kennedy Human Rights award represents a great honor,' said Aminatou Haidar. 'As a Saharawi human rights activist, I consider it recognition that the cause of the Saharawi people is just and legitimate and that our nonviolent resistance is noble and righteous, in spite of the risks and the intimidation of the Moroccan authorities. The Robert F Kennedy Human Rights Award will provide constructive support to the struggle of the Sahrawi people for liberty and human dignity.'
The Award, which includes a cash prize of $30,000 and ongoing legal, advocacy and technical support, will be presented to Aminatou Haidar in Washington on 13 November.
Help us produce more like this
Patreon is a platform that enables us to offer more to our readership. With a new podcast, eBooks, tote bags and magazine subscriptions on offer, as well as early access to video and articles, we're very excited about our Patreon! If you're not on board yet then check it out here.